LP - COVER - ART - COLLECTION
The LP-Cover-Art-Collection is split in two parts. The first part of the LP-Cover-Art-Collection, with more than 4.000 cover in art and design, is split in more than 40 different specifications, specially for Cover-Art-Xhibitions. Additional to the LP-cover-art-collection result the embraced LP-cover-designer-archive worldwide.
The second part is inclusive more than about 5.000 artful cover, only for concept and to design Xperimental-picture-projects.
Jazz-Sampler: Cool Gabriels, 1956
Design: ANDY WARHOL, 1956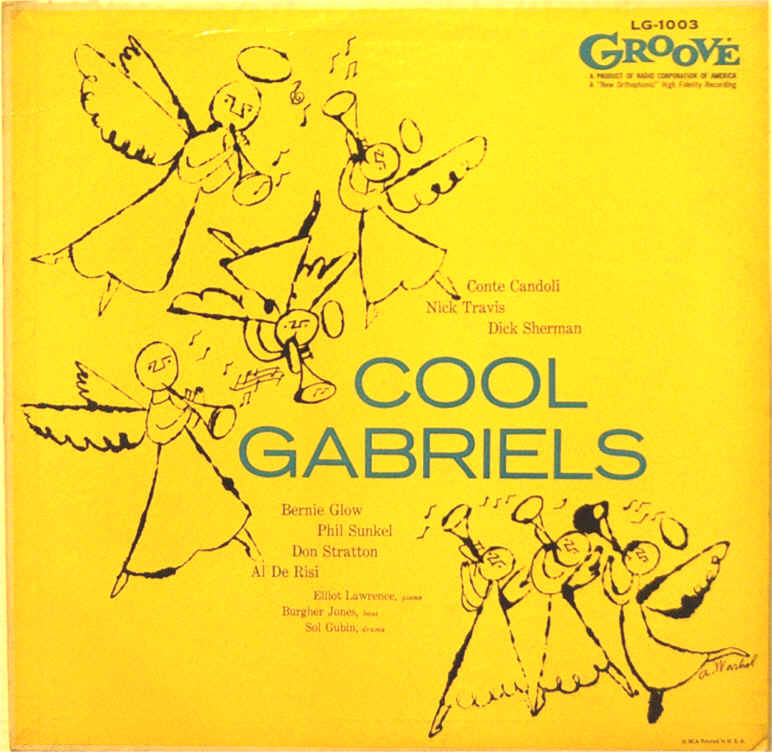 This Cover of Andy Warhol was a part of the the Xhibition: LP-Cover-Art, 5 international famous artists which designed cover. This Xhibition in Hamburg was inclusive a workshow of the cover art by Andy Warhol between 1949 and 1987, also with Salvatore Dali, Keith Haring, Horst Janssen and Joan Miro.
Cover-Art
Many LP-cover are artful and present with their fascination style a fantastic spirit of good and great design. In different countries comes cover with the same record and the same musician artists in different designs. The technique of the cover was also different like as gimmick or as gatefold cover.
The LP cover art is the only part in world of design which unit famous artists of different art genres, like graphic designer, painters, fashion designers, comic illustrators, photographers and other art genres. They find here a public and free form to design and present their own visual art style worldwide in a special form on the same plan cube.
Xhibition: Many parts for Xhibitions are so concept, that viewers and visitors at the age of 10 years are use and understand the different active Xperimental installations. For using the active Xperimental installations LP cover were different technical arranged to a functionally variation. These special objects can now use active by visitors.
Themes and categories of the collection:
The archive and the collection has from many different LP-cover artworks 2 or more of the same cover. It was use to present interesting backsides or fantastic artworks of the insides of gatefolds. Another part of LP cover are technical arranged to show the gimmick or Xperimental effect. Special many gimmicks and Xperimental art cover are technical arranged as active object to use by visitors and viewers. Every visitor and viewer understand now better the character of LP cover art by active using Xperiences of gimmick and Xperimental stations with their great effects. The themes of LP cover art are full of fantasy, that a few themes are complete concept as Xperimental active object.
Following the themes are listed with their different special oddities.
CATEGORIES:
THE HISTORY: The history of the records and the record cover is the time between 1900 and 1950. Its the time of the 78 RPM (round per minute). How looks like the first packaging ? - How looks like the design and what was the technique ? - With or without a hole in the centre ? - What are the specials in this time ? - Parts are inclusive gimmicks (trick-cover) or the only one playable 3-dimensionale record of the world from 1913. It shows also the influence of governments in design, like the German national socialists to change the design of cover art for their own interests. This part gives answers about the specials and the design in more than 350 record cover artworks from all over the world.
THE 50tieth, FROM THE HOLE-COVER TO THE CLOSED COVER: This part is the change from the hole cover design of the 78 rpm to the closed cover design of the 33 rpm. This part has more than 70 artworks.
ROGER DEAN: Work-show + retrospective with ca. 100 LP cover about the cover art of Roger Dean between 1968 and 2003. The Museum of Modern Art dedicated a Xhibition about the Cover art of Roger Dean in 1974. Roger Dean, a furniture and interior designer started his career as LP cover designer in 1968, in the age of 25. This part is concept as active-Xperience-station with 3 Cover Xperimental-Installations and one active installation with ca. 100 Cover. This is a complete active object installation.
ANDY WARHOL:
Work-show + retrospective with more than 50 artworks about the cover-art of Andy Warhol between 1949 und 1987. This part present more than 50 cover artworks. This part has two cover-Xperimental-installations
HIPGNOSIS: Work-show of the surreal photo-cover-art of Storm Thorgesons cover-design-group HIPGNOSIS between 1968 and 1980. This part has more than 100 cover artworks.
KLAUS VOORMANN: The cover-art of the graphic designer, musician and the music producer Klaus Voormann. Klaus Voormann is the international famous German cover-design artist. This part present more than 20 cover artworks. This part has one Xperimental installation.
HOLE- AND STAMPED-COVER: This part shows the different artworks of hole- and stamped cover. This part has ca. 120 Cover artworks.
JIM RAKETE: Cover artworks of the famous German cover portrait photograph Jim Rakete. This part present more than 30 cover artworks.
ANNIE LEIBOVITZ: Cover artworks of the famous female US Cover-Portrait-Photograph Annie Leibovitz. This part present more than 20 cover artworks.
INTERNATIONAL FAMOUS ARTISTS: This part shows famous international artists in cover art. The design for LP cover is special designed by these famous artists like Salvatore Dali, Horst Janssen, Joan Miro, A.R. Penck, Keith Haring, Raymond Pettibon, Pablo Picasso and many other artists like Jean-Paul Geaultier, Joni Mitchell or Ringo Starr. This part has more than ca. 110 cover artworks.
MUSICIAN ARTISTS, WHICH DESIGNED THEIR COVER THEMSELVES: This category present the design of cover art by the musician artists for their own cover like Syd Barrett, John Lennon, Jon Lord, Bob Dylan, Paul McCartney and many other. This part has more than 70 cover artworks.
MATERIALISM: From eating paper to steel sleeve cover art. This part present the different materials in design for the cover artworks. This part has ca. 110 cover artworks.
COVER FORM ART and MULTI-FOC: Cover artworks of organic and geometric formed cover. Also its here present multi fold-out-cover artworks. This part has more than 100 cover artworks. This part has one Xperimental active installation.
OPTICAL COVER ART: Cover artworks with special different optical elements like 3-D, strain-Cover-Design, holography or other optical elements like the optical changing of near and far. This part has ca. 120 cover-artworks with ca. 60 active-Xperimental-installations.
XPERIMENTAL COVER ART or GIMMICK: This part present special the cover artwork of Xperimental cover or gimmicks (trick-cover) This part has more than 400 cover artworks with ca. 90 active-Xperimental-installations and ca. 30 visual Xperimental-Installations.
Faces: This part present interesting painted or photographed real and abstract faces. This part has more than ca. 90 cover. This part has 4 active Xperimental-installations and two visual Xperimental-installations.
PORTRAITS: This category present artful portraits of the musicians in different forms. This part has more than 120 cover artworks. This part has two active Xperimental-installations.
PHOTOGRAPHERS: This part present photos by famous photographers like Helmut Newton, Robert Mappelthorpe, Richard Avedon, Jim Rakete, Annie Leibovitz and other. This part has more than 100 cover artworks.
PHOTOGRAPHY: This category shows different photographic artworks with the basic of LP cover. This part has more than 80 cover artworks.
TYPOGRAPHY: Typography is one of the important parts of the cover design. This part present more than 140 typographically artworks.
PATCHWORKS: This part present different cover art in patchwork style. This part has more than 60 cover artworks.
GRAPHIC COVER ART: This part present modern and other graphic artworks. This part has more than 50 cover artworks.
EROTIC, NUDE DESIGN, EROTIC FANTASY and PORNOGRAPHIC DESIGN. This sensible part shows erotic, nude design, erotic fantasies and pornographic cover artworks. This part has more than 80 LP cover artworks.
COLOURS and STRUCTURES: This part present the style of colours and structures, an abstract part in the design of cover artworks. This part has more than 90 cover artworks.
DIFFERENT COVER ART of the same COVER: This part shows cover artworks with different cover design of the same cover or of the same title. This part has ca. 110 cover artworks. This part has 2 active-Xperimental-installations.
FORBIDDEN + CENSORED COVER ART: This part present forbidden and censored European and US cover art. This part has ca. 80 Cover.
CARICATURES: This part present strain illustrations of faces. This part has ca. 60 cover artworks.
COMICS + COMIC ILLUSTRATOREN: This part present comic illustrations and comic illustrators, which have also designed record cover. Some of the comic illustrators use the cover as performance for their own art style. Famous comic-illustrators are Morris (Lucky Luke), Moers (Das kleine Arschloch), Rick Griffin (MAD, Alfred E. Neumann), Neal Adams, Uderzo (Asterix + Obelix) and other. This part has more than 110 cover artworks. This part is a complete active Xperimental installation.
HANDMADE COVER DESIGN + INDIVIDUAL DESIGN: In the world of cover art are a few record cover handmade designed or have an individual design. That is present by the cover artworks of the Trasch Center or of the art style Fluxus. This part present ca. 40 cover artworks.
GERMAN / DEUTSCHE COVER DESIGNER: This category present German / Deutsche cover designer and artists like Günther Blum, Ulf Mayer zu Küingdorf, Wandrey's, Heinz Dofflein and other. This part has ca. 120 Cover. This part has one Xperimental installation.
US-COVER DESIGNER: This category present US cover designer like Abdul Mati Klarwein, Reid Miles, Neon Park, Pacific Eye and Ear, John Kosh and other. This part has more than over 100 cover artworks.
UK-COVER DESIGNER: This category present UK cover designer like Patrick, Gered Mankowitz, Colin Elgie and other. This part has more than 100 cover artworks.
ITALIAN COVER ART: This part shows the design and art of the Italian cover. This part has ca. 80 cover artworks.
GDR COVER-DESIGNER and DESIGN: This part shows the cover art of design and designer of the GDR (German Democratic Republic = East Germany). This part has more than 60 cover artworks.
DEATH, VIOLENCE and WAR: This part in the cover art is an active discussion about death, violence and war. This part has ca. 40 cover artworks. This part is a complete active Xperimental object installation.
SYMBOLIC, ORNAMENTAL and ORIENTAL ART: This part present the creative style of symbolic, ornamental and oriental art in cover art. This part present more than ca. 70 cover artworks.
LABEL BRAIN: This part shows the cover art of the legendary German label BRAIN. This part has more than 80 cover artworks.
LABEL OHR: This part shows the cover art of the legendary German label OHR. This part has more than 40 cover artworks.
LABEL VERTIGO or VERTIGO-SWIRL: This part shows the cover art of the legendary UK label VERTIGO swirl. This part has more than 70 cover artworks. This part has one active Xperimental installation.
and man other CATEGORIES